Visit the Most Populated Cities on Earth
This is a virtual travel to the world's most populous cities like New York, Tokyo, Shanghai, London, Hong Kong, Chicago, Buenos Aires, Bangkok, Seoul, Los Angeles, Mexico City and so on.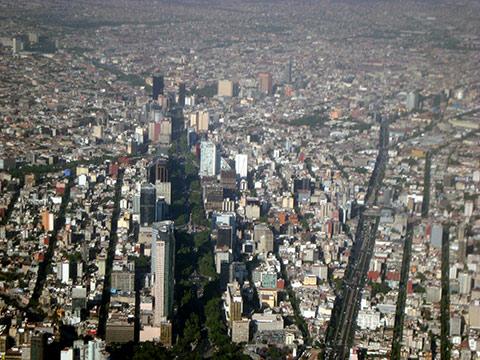 Metropolis (Mexico city)
Which is the largest city on the planet, this issue is still unresolved but sometimes the subject of small talk. On your next casual conversation you may impress your audience when you state that by far the largest city is
Chongqing
, because most certainly nobody ever had heard of that city.
Chongqing in southwest China is one of the emerging Megacities with a population of more than 32 million people, sprawled over an
area
of 82,400 km² (this is twice the size of
Switzerland
with 41,285 km²). Chongqing carved out of Sichuan province in 1997, is de facto a Chinese province with the status of a provincial-level municipality like
Shanghai
,
Beijing
and
Tianjin
.
And this should be the largest? Actually Chongqing's core population is about 7.5 million.
The largest, the biggest, or the most populous cities?
In many languages this terms are interchangeable, meaning the largest city of a country is also the most populous.
In the chart below there they are, the largest cities in the world, ranked by the population of a city's urban/metropolitan area.
What is a City?
The challenge is, ranking these cities is like to compare apples and oranges.
The common ground is: there is a city and there must be people, so lets count them. The problem begins with the definition of a city, easy you say?
A build-up of many buildings with many citizens is a city, right?
The largest city on Earth?
Lets look at Tokyo, often referred to as the largest city on Earth. But this is only true when you take the built up area of Tokyo and add the urban expansion of Chiba, Kawasaki, Sagamihara, Saitama, and
Yokohama
, which actually is
Japan's second most populous city
.
In the course of time, the fringe areas of all those cities have been growing together and now they form one massive conurbation, a sprawling ocean of buildings, and streets, with only virtual borders - and within, 28% of
Japan
's entire population.
To learn more about the cities, this page provides links to the official city or municipality government website and/or to the official travel and tourism information site or other tourism guides related to a city. A city's websites usually publish also information for visitors and tourists about cultural events, festivals, sightseeing and much more.
Note: Population figures are for latest available years. The ranking is relative because of the diverse latest available figures of the city population.
External links will open in a new browser window.

Biggest Cities on Earth

City

Citizens


Skyscrapers in Shanghai's Pudong district.

Shanghai (Chinese: 上海) - also named "Hu" or "Shen" in short. It is People's Republic of China's largest city and one of the largest cities in the world. It covers an area of 6,340 square kilometers. It is one of the world's largest seaports and a major industrial center of China. Shanghai city proper population was 7 million people in 2010.

More about Shanghai
Searchable map/satellite view of Shanghai.



Official Website


Shanghai
Official website of Shanghai Municipality.

Shanghai Tours
Website of Shanghai Municipal Tourism Administration with visitors information.
Metropolitan Area:
24.24 million
with permanent residents of 14.25 million
and migrant residents (commuter) 9.9 million
(in 2013; source: China Daily )

23,019,148
(2010 census)
National Bureau of Statistics

18,885,000
(2008)
Shanghai Municipal Government



Karachi Port and Naval bases

Karachi - largest city, business capital and the "Melting Pot of Pakistan. The city is Pakistan's principal seaport and capital of Sindh province, located in southern Pakistan at the coast of the Arabian Sea (Indian Ocean). According to Karachi Metropolitan Corporation: Karachi's 'metropolitan area along with its suburbs comprises the world's second most populated city'. Due to its migrant population the city grew almost 60 times since 1947, and there is nowadays still the unchecked and uncontrolled massive migration of workforce to Karachi that increases the city's population.

'The population of Karachi has doubled in 15 years'
Tribune Karachi

More about Karachi
With a searchable map/satellite view of the city.



Official Website


Karachi
Karachi municipality government website.

Estimated population of Karachi today: 21 million

Urban population: 14,500,000
City District Government Karachi
est. 2007


See also:
Karachi: a unique mega city

Population explosion: Put an embargo on industrialization in Karachi

Shinjuku Street Tokyo


Tokyo (東京) - the "Eastern Capital", formerly Edo (until 1868), the capital and largest city of Japan and in Asia.

The Tokyo Major Metropolitan Area includes the cities of Chiba, Kawasaki, Sagamihara, Saitama, and Yokohama, making it the world's most populous metropolitan area.

Tokyo City Limits (Special wards of Tokyo) has a population of 9 million people.

More about Tokyo
With basic facts and a searchable map/satellite view of Tokyo.



Official Website


Tokyo
Tokyo Major Metropolitan Area (Kanto M.M.A.): 37,220,000

Tokyo Metropolis: 13,189,000
about 10% of Japan's total population


Tokyo Metropolitan Government
(2012 est.)



Beijing's Central Business District



Beijing - (Chinese: 北京 Běijīng, also formerly known in English and other language as Peking).

Pei-Ching the "Northern Capital", capital city and political and cultural center of the People's Republic of China, is the second most populous city in China.

More about Beijing
With a searchable map and satellite view of Beijing.



Official Website


Beijing

20.7 million
(end of 2012 )

20.1 million
(2013 est. )

source: National Bureau of Statistics



São Paulo (Saint Paul) seen from Ibirapuera Park. © Turismo Cidade de São Paulo

São Paulo

the largest city in Brazil and the capital of the captaincy (state) São Paulo, founded as São Paulo de Piratininga (Saint Paul of the Fields of Piratininga) in 1554. Most populous city in South America.

More about São Paulo
with a searchable map and satellite view of the city.



Official Website


São Paulo
Prefeitura da Cidade de São Paulo (in Portuguese)
São Paulo Turismo
Official tourism website of São Paulo.

Metropolitan Region: 20.8 million (Região Metropolitana de São Paulo )


City: 11,821,873
(mid. 2013)
IBGE, Cidades, São Paulo

Instituto Brasileiro de Geografia e Estatística



Megalopolis - Mexico City, Nezahualcoyotl

Mexico (Ciudad de México)
was in ancient times the pre-Columbian city of Tenochtitlan, it became the capital of the Aztec Empire until 1521. Today Mexico city is the economic, industrial, and cultural center and the capital city of the United States of Mexico. Most populous city in North America.

More about Mexico City
Information and a searchable map/satellite view of Mexico City.


Official Website
Mexico City
Mexico City government website (in Spanish).

Mexico City
Mexico City tourism website.

Mexico City
Metropolitan Area (Greater Mexico City): 20.4 million

Distrito Federal: 8.85 million

(INEGI 2011 census )
.



NYC - The Big Apple - Manhattan Island

New York City

The city of the five 'boroughs': Manhattan, Brooklyn, Queens, the Bronx, and Staten Island (formerly Richmond), at least since 1790 number one on the list of the largest city in the United States. New York is also in the lead in the ranking on almost any of a variety of Global Cities Indexes.

More about New York City
Searchable map/satellite view of New York City.



Official Website


New York City
The official New York City Web site.

NYC
The official tourism website of New York City.

New York metropolitan area, New York-Newark: just under 20 million residents.

(mid 2013 est.)
U.S. Census Bureau

Metro: 18,897,109

City proper: 8,336,697

U.S. Census Bureau
(2012 est.)



Mumbai © Maharashtra Tourism

Mumbai (मुंबई)

Marathi Mumbai (the former Bombay), capital of Maharashtra state in India, port to the Arabian Sea and one of the most densely populated cities in the world.

More about Mumbai
Searchable map/satellite view of Mumbai.



Official Website


Mumbai

Greater Mumbai:
18.5 million

( Provisional Population Totals, Census of India 2011 )

source: Census of India

Mumbai population 14 million (according to the Municipal Corporation of Greater Mumbai)

19.74 million (UN estimates)
.



Bahá'í Lotus Temple, Delhi



Delhi (Hindi: दिल्ली) - city and union territory, also known as the National Capital Territory of India. New Delhi to the south of Old Delhi is the capital of India.

More about Delhi
Searchable map/satellite view of Delhi.



Official Website


Delhi
Delhi government website.

Delhi National Capital Territory:

16.3 million
Census of India
(2011 census)

or

16.8 million
(2011 Census Population)
Government of NCT of Delhi



St Basil Cathedral and Kremlin, Moscow



Moscow, (Moskva) - most populous city, the political center and the capital of the Russian Federation, first written mention of Moscow dates back to 1147.

More about Moscow
Searchable map/satellite view of Moscow.



Official Website


Moscow
11.5 million

Federal State Statistics Service
2010 census
.



The city of Chongqing

Chongqing (in Chinese: 重慶; 重庆; Abbr. 渝 yú), formerly known as Chungking. The metropolitan region of Chongqing is one of four provincial-level municipalities of China, the highest level classification for cities with a status equal to that of provinces. The city/province is the economic center of the upper Yangtze River with a population of almost 30 million people. Chongqing is one of the fastest growing cities in the world.

More about Chongqing
Searchable map/satellite view of Chongqing.



Official Website


Chongqing
Chongqing Municipal Government website.


Chongqing Municipality

: 28,8 million

Census 2010

City Core: 16 districts & 3 counties
16.2 million

Core city: 7.5 million
(est. 2012)
.



City of Guangzhou



Guangzhou - is the capital of Guangdong province located at Pearl River about 120 km (75 miles) northwest of Hong Kong in the southern part of P.R. China. In its metropolitan area there live more than 8.5 million people.

More about Guangzhou
Searchable map/satellite view of Guangzhou.



Official Website


Guangzhou
The official website (in Chinese)
Guangzhou International
The official website of Guangzhou Municipality

12,700,800
2010
Guangzhou Municipality



Tianjin City at Hai He River



Tianjin - Chinese:

天津

, also T'ien-Ching, Tientsin. Tianjin is Chinas fifth largest city. Referred to as "Jin" for short, Tianjin is one of the four Direct-controlled municipalities of China.

More about Tianjin
Searchable map/satellite view of Tianjin.



Official Website


Tianjin
Tianjin
City of Tianjin:
10.4 million permanent residents



Lalbagh Fort Dhaka



Dhaka - Bengali: ঢাকা, a megacity, largest city and capital of Bangladesh, located on the east banks of the Buriganga River in the Ganges delta.

More about Dhaka
Searchable map/satellite view of Dhaka.



Official Website


Dhaka City

Greater Dhaka Metropolitan area: 17.2 million
(2011 Census)

Dhaka Division: 12 million
Source: Bangladesh Bureau of Statistics

Dhaka: 8.5 million
Statistical Yearbook 2011

Misty Bangkok


Bangkok (กรุงเทพมหานคร) - the Thai name is Krung Thep, the "City of Angels", formerly divided into two municipalities, Krung Thep and Thon Buri. Bangkok is the capital, cultural and commercial center of Thailand and by far the largest city in the country.

More about Bangkok
Some basics about the city, includes a searchable map, a satellite view and street view of Bangkok.



Official Website


Bangkok
Bangkok's government official website.

Greater Bangkok: 14.5 million (estimated)

Bangkok Metropolis: 8,3 million

Thailand Population Census 2010

Dong-A Seoul International Marathon

Seoul - in Korean 서울 (Soul-t'ukpyolsi)

Officially Seoul Special City, situated along the banks of the Han river is the national capital of South Korea,
Seoul was, until 1945, the capital of all of Korea, in ancient times Seoul was the capital of Baekje Kingdom (18 B.C. ~ 660 A.D.)

Google Earth Seoul
Searchable map/satellite view of Seoul.



Official Website


Seoul

Special city:
just under 10 million residents
(2014)

Seoul Metropolitan Government

The Seoul Capital Area which includes the surrounding Incheon metropolis and Gyeonggi province has a population of
25.7 million

9,794,304
2010 census
Statistics Korea
.



Istanbul at Night




Istanbul (İstanbul) - a city with a great history, formerly known as Byzantium and Constantinople (official renamed to Istanbul in 1930).
The former capital is the largest city and principal seaport and the cultural and financial center of Turkey. It is the only city in the world situated on two continents.

Google Earth Map Istanbul
Searchable map/satellite view of Istanbul.



Official Website


Istanbul
Official website of Istanbul Metropolitan Municipality.

Istanbul province:
13,624,240
census end of 2011
Turkish Statistical Institute

12,573,836
census 2007

Istanbul Metropolitan Municipality



Jakarta at night



Jakarta - until 1949 the city was named Batavia, from 1949-72 its was named Djakarta.
Jakarta is primary port city, the largest city and the capital of Indonesia.

Google Map of Jakarta
Searchable map/satellite view of Jakarta.



Official Website


Jakarta
City government website.

9,607,787
Statistics Indonesia
.



Avenida del Libertador, Buenos Aires

Buenos Aires, is the largest city, chief port, and capital of Argentina, located on the south west bank of Río de la Plata river, in the pampa region.

More about Buenos Aires
With basic information plus a searchable map/satellite view of Buenos Aires.



Official Websites


Buenos Aires Ciudad

Buenos Aires Tourism Website
Buenos Aires core city population (Ciudad Autónoma de Buenos Aires): 2,890,000

Greater Buenos Aires (24 Partidos del Gran Buenos Aires): 9,9 million
(Census 2010)

Buenos Aires Province:
15,6 million people
(Census 2010)

Source: INDEC. Censo Nacional de Población
2010 Census

13.53 million (UN)
.



London Tower Bridge

London
Largest city and the capital of the United Kingdom, a confederal metropolis and a polycentric city, with many core districts and no clear hierarchy among them. The London administrative area comprises the City of London, and the thirty-two boroughs, of which 13 are in Inner London and 19 are in Outer London. London is since years number two in the Global City Index (GCI).

Google Map London
Searchable map/satellite view of London.



Official Websites


London
Website of Mayor of London, the London Assembly and the Greater London Authority.

Visit London
The London visitors guide.

8.2 million

Urban Zone:
The estimated population in and around London known as the "London commuter belt" are just under 12 million people

Office for National Statistics 2011 Census
8 278 251
.



Azadi Monument, Teheran



Tehran, since 1788 capital city of Persia (Iran) and since 1980 capital of the Islamic Republic of Iran.

Google Earth Tehran
Searchable map/satellite view of Tehran.



Official Website


Tehran
Official website of Tehran municipality.
City: 7.1 million

(census 2006/1385)

Metro: 14,000,000
(est. 2012)

Statistical Centre of Iran
(Metro: 11,912,000
in 2003/1382)


.



Hong Kong (SAR)



Hong Kong - 香港 Xianggang (Hsiang Kang, the fragrant harbour), the formerly British Dependent Territory of Hong Kong comprises of Victoria (commonly known as Hong Kong Island), the Kowloon Peninsula, the "New Territories", and 235 outlying islands.
Hong Kong became a Special Administrative Region (SAR) of the People Republic of China on 1 July 1997.

Google Earth Hong Kong
Searchable map/satellite view of Hong Kong.



Official Website

s:
Hong Kong (official government website)
Hong Kong (website of Hong Kong Tourism Board)

7.2 million
Population End - 2013




Hong Kong Census and Statistics Department

.



Rifai and Sultan Hassan Mosques in Cairo



Cairo - Al-Qahirah, capital of Egypt and a cultural centre of the Arab world. Cairo is the largest city of the Middle East and in Africa.

Google Earth Cairo
Searchable map/satellite view of Cairo.



Official Website


Cairo
Official website of Cairo Governorate.

Cairo

governorate

: 6,789,479

greater Metropolitan Area:
14,872,204
(est. 2011)

Tour Egypt
.



Bogotá, Colombia's Capital City



Bogotá D.C. , formerly called Santa Fe de Bogotá, located on a mountain rimmed plateau in the Cordillera Oriental of the Andes Mountains, founded in 1538. Capital City of Colombia.

Google Earth Bogotá
Searchable map/satellite view of Bogotá.



Official Website


Bogotá D.C.
6 945 216 (UN) *
6 776 009 (WP)

DANE - Departamento Administrativo Nacional de Estadistica
Censo General 2005:
6 776 009

*

Urban agglomeration


Cristo Redentor (Christ the Redeemer) a world known symbol for Rio de Janeiro.

Rio de Janeiro, is the second largest city in Brazil, world famous for its carnival and the Copacabana and Ipanema beaches.


Google Map of Rio de Janeiro
Searchable map/satellite view of Rio de Janeiro.



Official Websites


Rio de Janeiro
Website of the city prefecture.
Turisrio
Official website of Rio de Janeiro's Secretary of Tourism, Sports, and Leisure.

Metropolitan Region:
16 million
(census 2010)


Municipality: 6.43 million

(est. 2013)

Instituto Brasileiro de Geografia e Estatstica

Santiago's Growing Skyline
Image: Juan Marchant

Santiago de Chile - largest city and the capital of Chile.

Google Earth Santiago
Searchable map/satellite view of Santiago.



Official Website


Santiago
Municipality of Santiago website (in Spanish).
6,683,852

Biobio Chile
Census 2012



Shenzhen, Central Business District



Shenzhen is a major city in the south of Guangdong Province, China, just north of Hong Kong.

Google Earth Shenzhen
Searchable map/satellite view of Shenzhen.



Official Website


Shenzhen Municipality
Shenzhen government.
10,470,000

Shenzhen Municipal E-government
2011
.



Lima's San Isidro district



Lima - El Pulpo (The Octopus), commercial and industrial center and the capital city of Peru

Google Earth Lima
Searchable map/satellite view of Lima.



Official Website


Lima
Municipalidad de Lima (in Spanish)

9.13 (UN)
7 605 742 (WP)



Lagos Island and part of Lagos Harbour





Lagos, formerly the capital and still the main commercial and industrial center and principal seaport of Nigeria. By far the largest city in the country. Lagos is one of and fastest growing cities in Africa, it is among the top ten of the world's fastest growing cities and urban areas.

Google Earth Lagos
Searchable map/satellite view of Lagos.



Official Website


Lagos State
Official website of the Lagos state government.

Metropolitan Lagos:
21 million people
17,850,000

The number is heavy based on estimates, because until today there is no compulsory registration of people in Nigeria.

Nigerian National Bureau of Statistics

Metropolitan Lagos, Lagos State
9,113,605
National Population Commission
.



Badshahi Mosque (Emperor's Mosque), Lahore's most famous landmark built in 1671-73, an example of the Mughal era architecture.



Lahore, is the capital of Punjab and second largest city in Pakistan, located in the upper Indus plain on the Ravi River, west of the border to India's province Himachal Pradesh.

Google Earth Lahore
Searchable map/satellite view of Lahore.



Official Website


Lahore (offline)

Punjab Gateway
Portal of Government of the Punjab.
5,143,000

Federal Bureau of Statistics, Pakistan
1998 Census